Accelerate your development
Save time in your R&D and integration tasks
Laser diode solutions, fiber modulators and synchronization tools
AeroDIODE
makes laser diode solutions
 What customers say? our product added value?
"The products make our development work much easier. It's clear that AeroDIODE has carefully thought about what end users really need. The products are proving to be reliable, flexible, and easy to integrate into existing test beds. "
" We ordered several products (including CCS, CCM, and TOMBAK) when I was leading a research group at DESY, Germany. They worked perfectly just as we expected. I continued to order these devices after returning to China and established new research efforts on developing novel ultrafast fiber lasers. Both my group members and I fully trust the product quality. The highly reliable performance of these products accelerates our experimental progress."
Fiber intensity modulators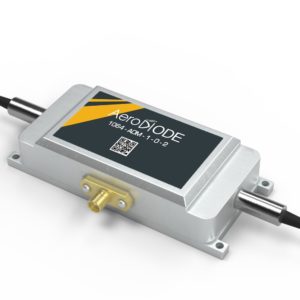 These fiber coupled acousto-optic modulators (AOM) are designed to offer an optimal solution for amplitude modulation of laser light in a single mode optical fiber. They are offered between 750 and 1750 nm (most models at 1064 and 1550 nm are in stock).  These AOM's are easy to implement and offer direct control of the timing, intensity, and temporal shape of the laser output down to a few nanoseconds.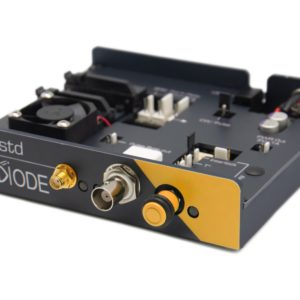 Semiconductor Optical Amplifiers (SOA amplifiers), when driven in pulse regime with our pulsed SOA drivers become a high dynamic range fiber modulation solution available from 750 to 1700 nm. It is a lossless, high extinction ratio and potentially highly polarizing device.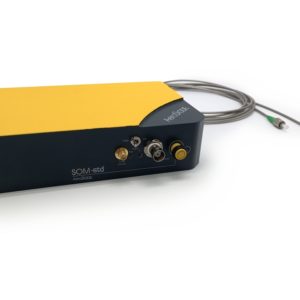 This fiber optic modulator is a high speed (nanosecond), high dynamic range, high extinction ratio solution.  It is a low noise and lossless device available from 750 to 1700 nm. Choose your wavelength on the datasheet table or table image above.
Synchronization electronics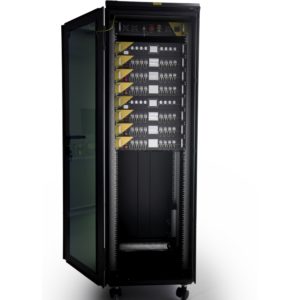 Life-test and qualification test system for laser diode reliability evaluation in CW or pulsed regime down to 1 nanosecond. Up to 112 fully independent fibered devices are electrically, thermally and optically tested according to several user-programmed test scenario.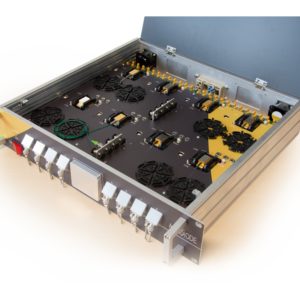 This laser diode driver & temperature controller allows fully independent control of up to 8 laser diodes from CW down to very short pulses. It includes several functions such as one pulse generator and one very low noise current and modulation driver per laser diode.